RELAY FOR LIFE 2016!!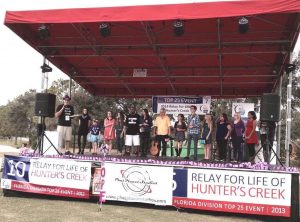 Please donate to the American Cancer Society through the Relay for Life, and the "Relay's Got Talent" competition!   The event is NOV. 12th at Osprey Park in Kissimmee, FL
Seth Tayler, the organizer of the Relay's Got Talent:  He wears his Phat Planet Studios shirt.   From Seth: "It reminds me of how generous they are to the Relay For Life to fight cancer. Thank you for sponsoring the annual November singing contest Relay's Got Talent! Carly Jo Jackson did this before America's Got Talent and is scheduled to be back at Relay Nov 12 to perform. Talented singers are applying at www.allworktogether.com to win a day recording at Phat Planet Studios – who will win this year? Thank you Ed for your support!"
Check out the site for more info….
http://allworktogether.com/